326 Miles on the Ohio to Erie Trail from Cincinnati to Cleveland
May 13-20, 2023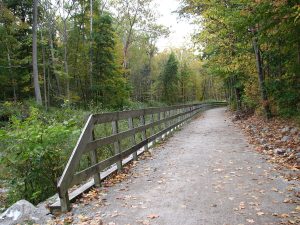 We are changing it up a little this year.  We will spend the first night in Northern KY and enjoy a meal together to meet & get to know everyone before the ride.  The next morning, we will load the truck early and go across the Purple People Bridge into Cincinnati.  We will dunk our rear wheels in the Ohio River before we head north.
Enjoy incredible scenery and some of the best riding you can imagine on this adventure in Ohio.  Most of this trip will be on relatively flat terrain, Rail-Trail's and tow paths. You will ride through the 3 C's (Cincinnati, Columbus, & Cleveland) and several other small towns and villages as well as beautiful farmland along the way.  There are many great restaurants and shops along the route.  We will ride through Ohio's only National Park, Cuyahoga National Park.  You'll enjoy great riding with minimal gear and the added luxury of staying in hotels each night.  Coupled with the route's easy to moderate terrain and manageable daily distances, this trip makes an excellent choice for beginners or for those wishing to enjoy more time out of the saddle during their vacation.  This ride is presented by, and benefits Columbus Outdoor Pursuits a 501c3.
May 13-20, 2023 (7 days – 6 nights)
Tour Capacity:
45 riders
Daily Mileage:
Ranges between 30 to 67, beginner to intermediate level. Shorter days allow for a more leisurely ride, additional miles on other trails, or site-seeing along the way. Trail surfaces are fine for road bikes, hybrids, and mountain bikes. While 90% of the trail is essentially flat, there are some hills along the way but none that are too long to just enjoy walking.
Terrain:
About 90% of the route is essentially flat, there are a few hills along the way to keep it interesting.  Relax, use a lower gear, and enjoy the view, you will have a great time.  The northern part of the trail is packed ballast so if you are riding a road bicycle, please think about at least 25cm puncture resistant tires like Gatorskin's or Armadillo's for this ride.
Overnight Lodging:
Riders stay at hotels at special rates. Food and lodging are paid for by participants. Specific hotels and OETA discount codes will be shared immediately upon registration. OETA will provide a welcome banquet dinner on Friday night, May 12th.
SAG (Support and Gear):
Fully supported with a luggage/bike vehicle, mechanic and Outdoor Pursuits staff. Participants only need to carry what they will need for the day. Support stops are about every 15 miles with water and snacks.
Pricing:
The cost is variable, depending on the date of registration, ranging from $1,299 until February 28, 2023, and $1,399 starting March 1, 2023.  Pricing includes the welcome dinner the first night, luggage truck, SAG support / bicycle mechanic, daily sheet, and tour support.  Participants only need to carry what they need for the day.  Support stops will be about every 15 Miles with water and snacks.  A unique aspect of this ride is that much of the costs are tax-deductible DONATIONS to Columbus Outdoor Pursuits 501(c)(3).
Weather:
May in Ohio is typically warm with a chance of showers with temps ranging from morning lows of 45-55° to afternoons highs of 70-80°.
Itinerary:
Day 0: May 13, 2023 – Welcome Dinner Banquet provided at the Holiday Inn on Saturday evening.
Day 1: May 14, 2023 (67 miles)  Cincinnati – Xenia (Start at the Ohio River)
Day 2: May 15, 2023 (59 miles)  Xenia – Columbus
Day 3: May 16, 2023 (51 miles)  Columbus – Mt. Vernon
Day 4: May 17, 2023 (41 miles)  Mt. Vernon – Millersburg
Day 5: May 18, 2023 (38 miles)  Millersburg – Massillon
Day 6: May 19, 2023 (30 miles)  Massillon – Akron (Optional loop into Cuyahoga Valley National Park)
Day 7: May 20, 2023 (40 miles)  Akron – Cleveland (Edgewater Park on Lake Erie)

There is a fee of $120 for transportation back to Cincinnati after the ride that will be collected when you register. This is for the rider, bike, and luggage.
If you choose to opt out of the transport back to and have someone meet you in Cleveland for transport home, Edgewater Park is a good place to meet.
Cancellation Fees:
Rider cancellation fee: $150.00 until February 28, 2023
Cancellations after March 1, 2023, all fees will be considered a donation to Columbus Outdoor Pursuits 501(c)(3)
If ride is cancelled by organizer (in the event of continued challenges due to the COVID-19 pandemic), a $25 fee per rider will be reserved to cover administration costs due to our registration system.