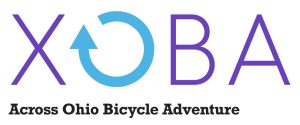 420 Miles from border to border in one week!
July 22 – 29, 2023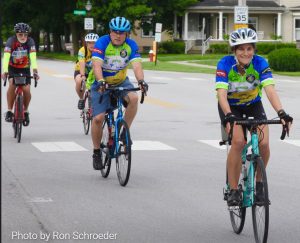 Rediscover this hidden gem tour that crosses Ohio from border to border on a different route every year. The 2023 route from Decatur, IN to Wellsville, OH (west to east) will cover 60-65 miles per day and be generally flat to rolling, getting hillier as the week goes by. Two dinners are provided during the week and bus transport included from parking to the start.
This ride is presented by, and benefits, Columbus Outdoor Pursuits a 501c3.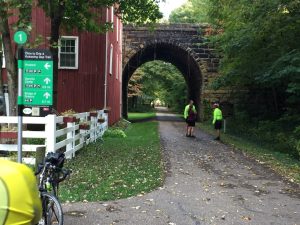 Enjoy incredible scenery and some of the best riding you can imagine on this 22nd annual adventure across Ohio.  Most of this trip will be on relatively flat to rolling terrain, with some real hills towards the end of the week.
July 22-29, 2023 (7 days – 7 nights)
Tour Capacity:
250 riders
Daily Mileage:
We ride 60-65 miles per day. Routes are marked and GPS tracks and maps are available.
Point-to-Point Logistics:
Riders check in at the "finish" community of Wellsville, OH on Saturday morning and XOBA provides bus transport to Decatur, IN for the Saturday overnight and  Sunday departure eastward.  Transport of riders, bicycles, and luggage is included in the tour registration. Safe and monitored parking for your car is provided in Wellsville for the week.
Terrain:
Flat to rolling most days. Flatter the first day or two and progressively hillier as the week goes by. Our routes are paved and mostly consist of lightly traveled roads with some bike path. Most riders ride road bikes.
Overnight Lodging:
Riders camp (indoor or outdoor) each night, mostly at high schools. There is tent service available for those who are interested at an additional charge. Meals are on your own (except for the opening and closing dinners). There is towel service and chair rental available for aa additional charge. Most towns have a
SAG (Support and Gear):
We have a SAG vehicle on the road for anyone who needs assistance. SAGs carry water, light snacks and bike pumps. We have a volunteer mechanic in camp for repairs and adjustments if needed. We strongly suggest that you ensure your bike is in good condition before leaving home, and that you have any potential concerns looked at by your local bike shop before the ride. It's no fun to have your ride cut short by a preventable mechanical issue.
Pricing:
Early bird registration is $525 through the end of February. Regular registration is $550. Late registration (after June 30) is $600. Registration includes overnight camping, the bus ride across the state, a boxed lunch for the bus, two dinners, SAG support, luggage transport, marked roads, GPS tracks, maps, and a t-shirt.
Weather:
Typically, we have highs in the low 80s and overnight lows in the mid 60s. An afternoon rain is always a possibility. Be prepared for both higher and lower temperatures as that can and does sometimes happen.
Itinerary:
Day 0: July 22 – Saturday – Park cars in Wellsville, OH and bus transport to Decatur, IN
Day 1: July 23 – Sunday we will ride from Decatur to St Marys, OH passing the Limberlost Nature Preserve and Grand Lake St Marys on the way.
Day 2: July 24 – Monday we will ride to Urbana with stops at Mac-A-Cheek Castle and Ohio Caverns for those so inclined.
Day 3: July 25 – Tuesday will take us to Marion, home town of President Warren G Harding.
Day 4: July 26 – Wednesday we ride to Fredericktown via part of the B & O bike trail.
Day 5: July 27 -Thursday will take us to Coshocton, visiting Roscoe Village as we come into town.
Day 6: July 28 – Friday takes us to the Dover/New Philadelpia area passing the Gnaddenhutton Memorial and Shoenbrun Village. Don't forget to visit the Ernest Warther Museum in Dover.
Day 7: July 29 – Saturday ends our tour back at tour cars in Wellsville.
Specific overnight locations are subject to change, but will be published in advance of the ride. We serve a catered dinner on Saturday and Friday nights.
<PLACEHOLDER FOR ROUTE ELEVATION CHART>

Cancellation Fees:
Rider cancellation fee: $75 until June 22. After this point all fees will be considered a donation to Columbus Outdoor Pursuits 501©(3).
If ride is cancelled by organizer (in the event of continued challenges due to the COVID-19 pandemic), a $25 fee per rider will be reserved to cover administration costs due to our registration system.